Ultimate Guide to Underpinning – Everything You Need To Know
Underpinning refers to the process of installing deeper footings beneath an existing foundation to stabilize and strengthen the structure. Large cracks in your property is a sign that your house may require underpinning.
You can be quite confused and scared to find cracks in the walls of your house. However, don't worry for we've prepared this guide to take you through underpinning. Hopefully, this guide will help you.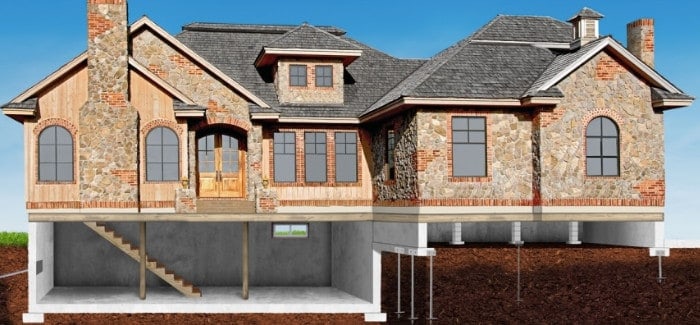 Dealing with Cracks
As a homeowner, the last thing you'd want is to find cracks that appear to be growing in size and length every other day. Visible cracks are enough reason to make you feel concerned about the safety of your house.
Maybe the cracks are as a result of movements of the footings or slab. At this point, you may be confused whether to call an underpinning specialist, a slab stabilization company, or an experienced structural engineer.
As a homeowner, you definitely want to always feel protected and safe in your house. Thus, when your house moves and develops cracks, it goes without saying that you'll want it stabilized to stop the movement soonest possible.
As licensed and experienced structural engineers, we can successfully fix your house. We have the much-needed tools and expertise to assist you in fixing your house and stopping the movement.
Underpinning is an ideal solution to stop the movement. However, it's an expensive process. It can damage your house if done the wrong way. The reason behind the movement of your house will determine whether underpinning is ideal or not.
What's The Meaning of Underpinning?
Underpinning refers to the process of adding steel or concrete footings to strengthen and stabilize or lift existing footings in commercial and residential buildings.
The process entails excavating beneath the foundation to add extra footings to support the structure on more stable soil than the soil on which the structure is currently sitting on.
Underpinning supports the footings on stronger, stiffer, and more stable soil. That way, the house is protected from future movement. Thus, underpinning involves laying a more solid foundation below the ground to strengthen or support a house. .
Structural engineers recommend underpinning to add support to a structure that is experiencing subsidence and requires support on deeper and stronger footings. That way, the house becomes more solid.
When Situations Require Underpinning A House?
Underpinning is a popular technique used in fixing problems associated with the movement of a structure's footings. However, is underpinning ideal for movement problems with your house? There are several reasons why footings move. Not all movements require underpinning.
So what situations require underpinning? One of the situations that demand underpinning is when a building's footings have dropped or subsided for reasons that are not reversible. For instance, footing movement resulting from a footing set on soft or loose soil may not reverse.
In case the footings of your house weren't installed deeply enough during initial construction, then underpinning is required to make the house more stable. Underpinning footings can jack up your house to make it level.
Which Situations Cannot Be Fixed By Underpinning?
Footing movements that are likely to reverse usually occur when the content of soil moisture changes unevenly. This often occurs in slab heave or clayey soils.
Underpinning isn't recommended for issues related to slab heave. The movement results for a reversible effect. Typically, underpinning shouldn't be done to fix issues related to the reactive movement of clay.
How Is Underpinning Done?
Concrete underpinning involves excavating pier footings around the house at a distance of 2 to 3 meters between each other.
Sometimes, underpins may be installed from within the house. Underpin footings should go deep into the underlying soil such that the structure's weight is supported firmly.
The new footings should be attached to the building in question. This is typically done by excavating beneath the old footing to allow for a stronger prop. Each prop and pier arrangement is then reinforced with strong steel bars. Next, concrete is poured.
An experienced underpinning contractor will ensure there's enough space left between the old footings and the new underpins. The space will make it possible to use the new underpins to jack up the house and level it once the poured concrete strengthens.
Sometimes, jacking the house may close the cracks that formed when the house was settling. However, the cracks may dislodge unevenly, making them fail to close up.
Can Underpinning Be Done Anywhere Else Apart From Outside Footings?
Yes. The footings that exist at the center of a structure can also be underpinned. The underpinning specialist will excavate through the concrete slab to get to the soil beneath the foundation. Underpinning is then done just like how it's done from the outside.
How Long Will It Take To Underpin A House?
The time it takes to underpin a house is determined by the specified number of footings to be used for underpinning.
For instance, it may take around two weeks to underpin a house that requires 10 underpins. If the entire house requires underpinning, it might take around a month to get the job done.
Underpinning a House in Five Easy Steps
You can underpin your house by following these steps:
Step 1: Assessment by a Structural Engineer
You'll need to have your home assessed by a certified structural engineer. The engineer should:
Possess knowledge of the local area
Be easy to talk to
Be licensed to practice structural engineering
Have experience is assessing structural damages and doing the necessary repairs
The first thing you should do is to plan for a professional inspection. At first, avoid stating that your house requires underpinning. Just leave it to your engineer to advise you.
Describe all the symptoms you've noticed and let the engineer know when the cracks appeared first. For instance, let them know of an interior door that doesn't latch or is sticking or whether there are noticeable in the walls.
Some engineers may not have the required qualifications to do the assessment. Others might not be independent. Thus, you need to choose an engineer wisely to ensure the work is done properly without causing further damage.
Ensure you only choose a reputable and qualified structural engineer. At least, check whether they're registered by the engineering board in your area.
The investigation should consider these assessments when checking for structural damages and house movement:
Do thorough inspection around the house and record any damages
Check for any external causes around the exterior of your house
Take the levels of the floor throughout your house to establish the moving part and determine whether it's subsiding or lifting
Ask for a photocopy of the soil test and original engineering documents if available
Get a report on whether there are any underground pipes or cables that may affect your property before digging
Arrange for another soil test so as to determine whether the original one is valid
Although the inspection service and report by an experienced structural engineer may be a little expensive, it's worth it. Determining the causes of the cracking and movement is important before doing any underpinning.
After all, your house might not even require underpinning. Talk with the engineer about the possibility of stabilizing your house with the following alternatives:
Adjusting the stumps
Stabilizing the soil moisture
Adding flexible joints into the ceilings and walls
Step 2: Soil Test
A professional underpinning contractor should only quote for the underpinning job after soil testing. The soil test will assist in determining the depth that underpins will go.
The soil testing done in readiness for underpinning isn't similar to the one done for site classification when building a house.
The soil testing done when preparing for underpinning is typically deeper. It goes 6 to 8 meters deep and may involve taking the conditions of the soil moisture at depth increments of 500mm.
Only work with a soil testing expert familiar with your area and one who has a reliable digging machine that can reach the area that needs testing.
Step 3: Engineering Design
You need to hire an experienced structural engineer for this step to be carried out successfully. Engineering design should be done by a licensed structural engineer in your local area.
The engineer will rely on the information that came with the soil testing report to recommend the best depth, spacing, and location of the new underpins to be used in stabilizing the house.
Since the engineer never knew that your house requires underpinning when issuing the initial quote, you'll pay extra for the engineering design process.
Be on the lookout for a resin injection or underpinning company that offers to do the design process free of charge as they may cover for the cost by using extra underpins.
Step 4: Choosing an Underpinning Company
You can now prepare to sign a contract with the right underpinning company. Get quotes from different contractors and compare them. The quotes should be detailed and explain what's included, what's excluded, and the cost of each service.
A reliable underpinning contractor should indicate the cost of removing the concrete slabs and replacing them, checking the plumbing after completing the work, engineer's inspection services during construction, workers' compensation, and council fees.
If you find it challenging to compare the quotes, ask for referrals from anyone who has recently worked with an underpinning company. Ask questions such as:
Were they friendly and courteous?
Did you get any unexpected cost variations?
Did the contractor do the work as promised?
Did the contractor fail to clean up any mess made during the work?
Step 5: Installing the Underpins
Upon settling for a contractor and signing a contract, the contractor will start doing the work. They'll ensure proper underpinning design and excavation is done to the ideal depth before pouring concrete.
The underpinnings will be installed and concrete poured in place. Once the concrete dries up after some days, the contractor will return to the site to jack and stabilize the house.
Next, your contractor will complete all the necessary paperwork and issue you with a detailed report about the floor levels. They'll also give you the final invoice upon completion.
Does Underpinning Need Construction Approval?
Construction approval is needed in most states when doing large projects such as underpinning. You may need to produce drawings done by a certified engineer to get construction approval. Soil testing is required to get acceptable drawings.
It's advisable to start inspection to assess whether underpinning will be the most ideal method to fix the structural problems affecting your house.
If underpinning is recommended, the engineer will offer guidelines to be followed when testing the soil. Soil moisture content will be tested at depth increments of 500mm to determine its wetness at the tested locations.
Upon getting results for the test and finding a reliable underpinning contractor, the contractor will assist you in seeking construction approval from the local council.
How to Prepare For Underpinning?
It's recommended to start with an engineer's inspection and a report before underpinning. Starting with inspection is necessary since it'll assist to point out any reversible footing movement as a result of changes in the level of soil moisture.
A structural engineer who has experience in diagnosing slab settlement and slab heave is best placed to do the inspection. Ensure soil tests are carried out before coming up with an underpinning design.
The engineer will specify the spacing, diameter, and depth that the footings will go. This will depend on the extent of the footing movement, soil type, soil strength, and the kind of construction used in the building.
Also, plan with your contractor to get construction approval before commencing with the underpinning work. Failure to get a permit may lead you into trouble with your local authorities and end up paying huge fines.
Although underpinning isn't very difficult, it's advisable to only work with an experienced contractor to ensure the work is done safely.
An experienced contractor will be able to work in challenging site conditions. They'll also jack your house safely. Also, ensure the excavations made are inspected thoroughly by a qualified engineer before pouring concrete.
Resin Injection vs Concrete Underpinning
Resin injection and concrete underpinning are techniques used in stabilizing a house. However, they're applied in different situations. Resin injection involves pumping resin beneath the foundation.
The resin will expand and harden, thereby stabilizing the house. However, resin injection isn't ideal for situations where a building keeps moving every now and then. Resin injection is irreversible and once done, it becomes challenging to stabilize the house a second time.
A reputable underpinning contractor knows that it's necessary to have the house inspected for the causes of movement before they quote the costs of the underpinning project.
However, remember that house raising and underpinning contractors are not structural engineers and aren't licensed to offer engineering advice.
An honest contractor should advise you to seek for inspection from a structural engineer before they give you a quote.
Before seeking for resin injection services, ensure a qualified structural engineer has carried out an inspection and issued a written report indicating that resin injection is the best solution to stabilize your house.