House Restumping and Lifting Services
Restumping and raising houses in becoming more popular among many homeowners as a home improvement initiative.
This is a sensitive project that requires you be strict when hiring a contractor. You should only hire a certified and experience restumping contractor.
Most Melbourne restumping services cost relatively the same but some contractors may deliver poor work.
Hence, before choosing a contractor, you should do some homework. For instance, ask for some referrals from neighbors and friends and search on the internet for reviews left by previous customers who received restumping services from the contractor you are considering. Avoid rushing to make decisions when choosing a company to restump or lift your house.
Quality Materials
When it comes to restumping, you should strictly use quality materials. Restumping is not something to gamble about when it comes to quality of materials. Hardwood stumps are some of the best stumps to use for restumping, but they are quite expensive and rare to find.
Nowadays, most people use steel posts, but they demand a lot of preparation work before installing them to support a home. The success of a restumping project depends highly on the quality of materials used and at times, you might have to prepare some materials. For example, if you will use steel stumps, then you should prepare them by protecting them from erosion and rust.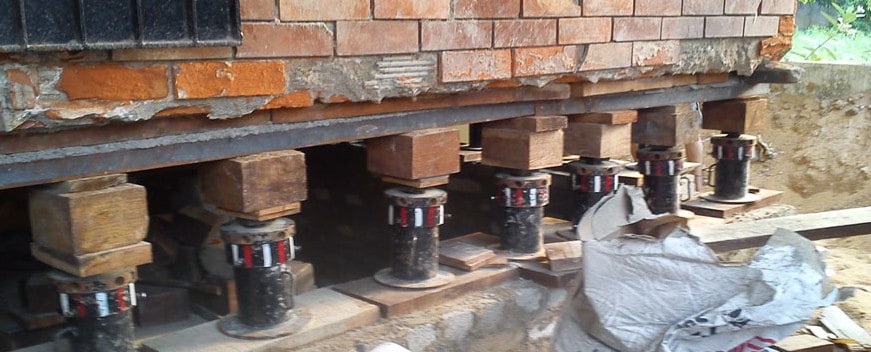 There are some steps you will have to take to prevent the natural decay shortcoming of materials such as steel. First, you should apply enamel on the steel surface to seal it from moisture. The most important part of the steel stumps to seal with enamel is the part that will go beneath the ground and around 8 to 10 inches above the ground.
Once the enamel coating has dried after around four hours, apply black tar on the enamel coating. Tar will work as an extra layer of protection from moisture. Enamel may penetrate into steel and give it a better seal. Therefore, it is more effective than using just tar alone. However, tar boasts of being more durable when compared to enamel once in contact with soil, concrete, or stone.
Quality Tools
The right tools should be used for the right tasks. This old saying also applies to home renovation projects such as lifting and restumping. Avoid making shortcuts when undertaking such projects. An ideal contractor that boasts of offering these services should always have the right tools that can handle such delicate and strenuous tasks. One wrong move may bring the whole house down.
Tools that handle such renovation projects tend to be quite expensive. If you are thinking of hiring a company to carry out such a project and has to hire tools, then you may have to reconsider and rethink about the final decision and go for a better contractor. Ideal contractors have their own tools on hand. Hence, choose a contractor carefully. Global Reblocking has been servicing Melbourne for over two decades. Contact us for more information.